Best Selling Products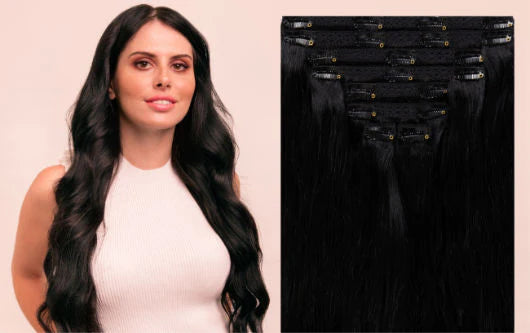 Clip in Hair Extensions
Our clip in hair extensions are made with seamless wefts that are discreet and give a flawless look every time. Choose from our wide range of colours.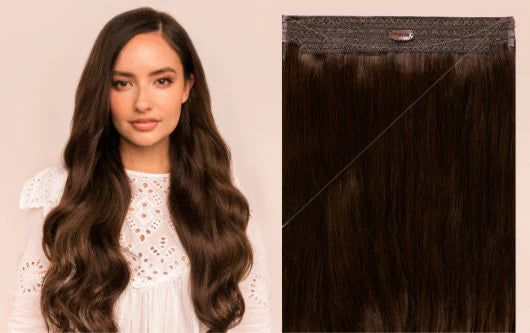 Invisible Wire Hair Extensions
Invisible wire hair extensions attach to your head with an invisible wire, so there is no need for clips, tape or glue to hold the halo extension to your head.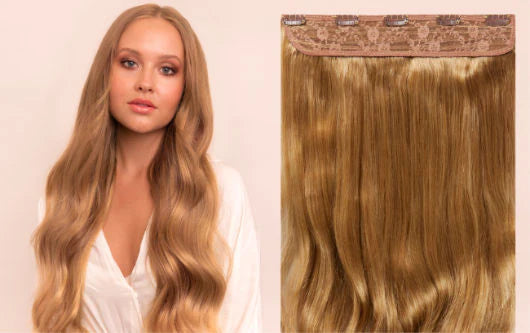 One Piece Volumizer
One piece clip in volumiser is made from beautiful and soft high grade remy human hair, are perfect for adding extra length and volume to your existing hair extensions.
See how it works
Clip in Hair Extensions
Invisible Wire Hair Extensions
One Piece Volumiser
Customers love Pure Hair
Great service, great product
The halo extension is exactly as pictured and delivery was fast. I will be purchasing another halo extension in the near future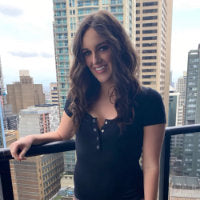 Maree
Good hair
Always consistent and delivered on time and in excellent condition. Hair can sometimes be of different quality even when purchasing the same set.
Brodie
Amazing hair extensions
Amazing customer service and products! I purchased 2 ponytail extensions in the 16 inch and 22 inch, these are premium products/ very thick and very easy to use.
Tracey B.
Amazing
Amazing- Clip in deluxe set is so soft and full I have thick and shoulder length hair and these blend perfectly after a little layering. Great for the price !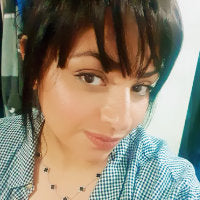 Jcalla
Thick hair, best halo hair
Quality and long lasting hair, easy store navigation and perfect colour match. Will recommend to friends. Also fast delivery. Great Australian seller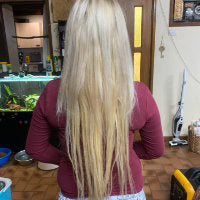 Tea
Second hair purchase!
This is my second time buying extensions from pure hair. I first got the keratin bonds as that's what I'm use to using but my friend persuaded me to get i tips to try and once again the hair quality is amazing!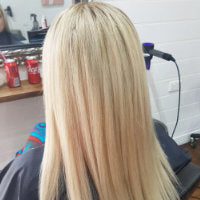 Sarahmk
Amazing products
Online store is very user friendly and easy to navigate. I was impressed with the big range of products and also the high luxury quality of the products I have purchased.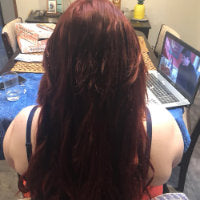 Saskia Askari
The best hair extensions!
Beautifully packaged, always so soft and luxurious. The customer service is amazing too and helped me with tips as a first time hair extension user, thanks so much! :)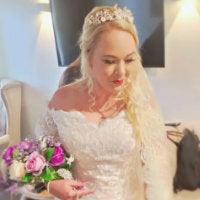 Libkob
Clip in Hair Extensions | Human Hair Extensions
Pure Hair only sell the best quality Remy human hair extensions. We have clip in hair extensions, ponytail extensions, human hair wigs and much more. We offer free shipping on all orders and express delivery
Clip in hair extensions are the most popular Remy hair extensions out. Why you might ask, because clip hair extensions don't require a trip to the salon, they are perfect for those who are wanting to install them themselves, avoiding any added costs. Clip in hair extensions, otherwise known as clip on hair extensions are easy to install on your own. We have a few varieties of clip in hair extensions for you to choose from whether it be for everyday wear or a special occasion. We have three clip in ranges that come with multiple wefts which are perfect to add length and volume. We also have clip in ponytails, volumisers, and fringes. When installing your clip on hair extensions all you have to do is unfasten the clips get the right part or position of your hair and fasten the clips to your natural hair. We have a variety of videos on how to install your clip in hair extensions.

Human clip in hair extensions have a longer lifespan when compared to synthetic clip in hair extensions. Synthetic clip hair extensions cannot tolerate heating tools and tend to tangle and dry out more rapidly than clip in human hair extensions. Clip in human hair extensions can be styled with heating tools and will behave the same as your natural hair, creating a seamless blend. Human clip in hair extensions are less likely to tangle when taken care of correctly.  The main point with clip in human hair extensions is that they will be exactly like your natural hair. 

For the best clip in hair extensions look no further. At Pure Hair Extensions, we have been developing and manufacturing clip in hair extensions for several years and understand the need for quality when it comes to your clip in hair extensions. Having the best clip in hair extensions is essential for creating a natural flawless look and having long lasting hair extensions. Our clip in hair extensions are created with the highest grade Remy hair. Remy hair extensions ensure that the cuticle of the hair is intact.


BEST HAIR EXTENSIONS
Pure Hair Extensions prides itself on being an American hair extension company. What does this mean for you? It means that when you search for hair extensions online, you can trust that your hair extensions are coming from a reputable brand. It is important to remember that our hair extensions meet the highest quality standards. You can be reassured that you are getting the highest quality for the price, in other words 'bang for your buck'. Hygiene and customer satisfaction are constantly being addressed to ensure that when you are looking for high quality hair extensions you get premier service and products. Being a premier hair extension brand means you don't have to wait weeks for your purchase to arrive from the overseas. It also means that we can provide prompt and accurate customer service, rather than having to wait for a response and dealing with someone who is unfamiliar with the United States postal service or doesn't understand your enquiry. We have a wide range of products stocked localy including Clip In Hair Extensions, Clip in Ponytails, Tape Hair Extensions, Halo Hair Extensions, Weave Hair Extensions, Micro Link Hair Extensions and a variety of accessories. Each of our products meets the highest quality standards as we aim to provide you with premium hair extensions and service. Another benefit of buying from Pure Hair is that if you need to exchange or return the item you can send it back to us at an affordable price instead of having to pay international fees. The product will arrive promptly back to us for assessment and a new item can be sent out in no time, reducing the waiting period that so often is extensively lengthy when shopping internationally.


PERMANENT HAIR EXTENSIONS
Are you looking for semi-permanent hair pieces? At Pure we offer a range of human hair extensions options to suit anyone. We have our clip in hair extensions range which is perfect for those looking for a less permanent hair extensions solution. Clip on hair extensions can be installed and taken out as suits you. We highly recommend not sleeping in your clip in hair extensions as the clips can put your hair under stress when sleeping. For a more permanent hair extensions solution we offer a variety of options. These solutions are semi-permanent and require upkeep to help them look and feel natural. We have tape in hair extensions these are small wefts that use an adhesive glue to bind to your hair. We also have Pre-bonded hair extensions that use keratin glue to bind. For permanent hair extension solutions that don't require an adhesive product we have microloop hair extensions and weaves. Microloop hair extensions use small beads that are fastened to your hair with a clamp to hold the hair in place. Wefts are hair pieces that can be glued into your hair however, they are more commonly sewn in as a semi-permanent solution to your longer fuller hair dreams. Finding the right semi permanent hair extensions solution for you can be difficult that's why our team is more than happy to discuss with you the best hair extensions for you. Permanent hair extensions all require different hair care regimes, and it is important to know which regime will best suit your permanent hair extensions.


SHORT HAIR EXTENSIONS
Sick of having short hair? Finding the right hair extensions for short hair can be daunting. We have a variety of hair extensions that will work for you. Our clip in hair extensions are the perfect hair extensions for short hair. You can install your clip in hair extensions in positions that are the best blend for your natural hair. We also have our Ultimate clip in hair extensions range this is our thickest set of hair extensions. Having a thick set of hair extensions allows for your hair extension short hair to blend. All of our permanent hair extensions work perfectly for short hair. Depending on the thickness of your hair and the haircut you have will determine how many packets of our permanent hair extensions you'll need. If your hair is quite short and in a blunt cut, you will need more packets of hair to help hide the straight cut. However, if your hair isn't blunt cut and is longer, you'll require fewer packets. We usually recommend a minimum of 2 packets for a full head.


BUY HAIR EXTENSIONS ONLINE
Looking for the best place to buy hair extensions online? Pure Hair Extensions has been an online hair extensions business for several years and has worked tirelessly to make your online experience exceptional. The website has been laid out to make your online hair extension experience simple to navigate and understand. Having a variety of experience in website development the Pure Hair team has come up with a hair extension online business that's designed for the user, reducing frustration because let's be real, we've all gone to buy something online and the website has been difficult to use and you end up just feeling irritated by the whole experience. But not to worry we have taken care of all those annoying online shopping issues and create Pure Hair Extensions as a simple way to find real human hair extensions. Our Remy hair extensions are 100% human hair extensions, this means that you aren't dealing with a synthetic product. Human hair extensions are a premium product when compared with synthetic extensions. Real hair extensions will maintain and hold any style you create with heating tools and won't melt! They also tangle less and feel softer creating a more natural look.
People sometimes think that cheap hair extensions are the better option, Pure aim to have low prices with exceptional quality. We understand that products need to be at an affordable price, that is why we have come up with a way for you to get exceptional quality and cheap hair extensions at the same time. Save on your first order by checking this page for a coupon. We manufacture Remi hair extensions to the highest grade to ensure that your real hair extensions look flawless and discrete. Remy hair extensions are carefully made keeping the cuticle intact, this is vital for human hair extensions as it allows the hair to fall in a natural arrangement. Having the best hair extensions makes creating the look you want easy, at Pure we pride ourselves on having the best hair extensions on offer and constantly aim to maintain such high standards. The best hair extensions make you feel the best about yourself!
Sometimes it can be hard to buy hair extensions online. Not sure if the colour is a match or if it's the best human hair extensions for you. We have a dedicated team to help make buying online hair extensions stress-free. You are more than welcome to get in contact with our team via our socials or at enquiries@purehairextensions.com.au. Our friendly team will respond within 24 hours on weekdays so that your hair extensions online experience is simple. We are always happy to answer any enquiries whether this is in regards to clip in hair extensions, accessories, collaborating, returns, or general questions. You can be rest assured that when you are looking for human hair extensions online you are getting the best quality and service on offer..


KLARNA HAIR EXTENSIONS
Pure Hair Extensions now offer Klarna as a payment option, allowing you to buy your hair extensions now and pay for them later in 4 instalments.


AFTERPAY HAIR EXTENSIONS
We also offer Afterpay hair extensions. Paying by Afterpay allows you to wear your hair extensions now and pay for it later with zero interest.